Budget Engine Rebuilders has been in the engine rebuilding and remanufacturing business for over 20 years. One of our notable passions in engine remanufacturing has always been the marine engine. Over the years, we have supplied top quality rebuilt and remanufactured long and short block direct replacement marine engines to private customers as well as marinas in Ohio, Michigan and Pennsylvania.
Our Tools and People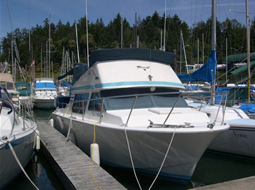 Let us make mention of our state-of-the-art equipment, U.S. Metal Works baking oven and shot peen, Rottler boring machine, Rottler resurfacer, Sunnen CV616 hone machine, Sunnen seat and guide machine and Sunnen valve grinder. Know that we provide the best equipment to our experienced and professional staff and use only the finest quality parts, so that we can provide a product that performs and lasts for our customers.
On completion of all machine related processes, our professional engine builder staff will assemble the engine with precision parts specifically designed for the high demands of high RPM requirements and the environment associated with the marine engine. We use the Corteco White Seal Technology marine cylinder head gasket. Our personal care is important to ensure our customer of satisfaction, performance, reliability and longevity.
Engine Core Requirement
Engine core must be the same type as was purchased. Cracked, broken or missing parts originally provided with the new engine, salt water or rusty blocks will not be accepted. Core must be returned within 90 days from the date of purchase to be valid for refund.
See all of our available rebuilt and remanufactured marine engines.
Our Marine Engine Rebuilding Process
Disassembly – remove all moving and rotating parts, all freeze and galley plugs.
Clean castings and some steel parts – thermally bake and blast, Hi-pressure jet wash castings, etc.
Magnaflux – Inspect engine block and cylinder head castings for freeze and heat related cracks.
Inspect block and cylinder heads for broken ears or bolt hole bosses, distorted bolt hole threads.
Engine block machining – straighten cylinder from top to bottom then hone the cylinder. Inspect and deck block if required. Line hone if required.
Cylinder head reconditioning – pressure test, install bronze guide liners, 3 angle valve seat cut. Regrind or replace valves, resurface.
Connecting rod – inspect for straightness, re-size and side clear.
Crankshaft – inspect for damages and straightness, regrind, chamfer oil holes, micro polish.